Explore
The best place for web3 developers to explore smart contracts from world-class web3 protocols & engineers — all deployable with one click.
Popular
A collection of our most deployed contracts.
Marketplaces
Quickly spin up your own on-chain marketplace for NFTs.
Drops
Release NFTs and Tokens based on preset Claim Conditions.
Accelerate your protocol's growth.
Publishing your contract is the best way to get your contracts in front of our 70k+ community of web3 developers.

Save development time.Focus on protocol development and save time by not having to build middleware layer yourself.

Shareable landing page.By publishing your contract, your contracts become easily shareable with a landing page for your contract.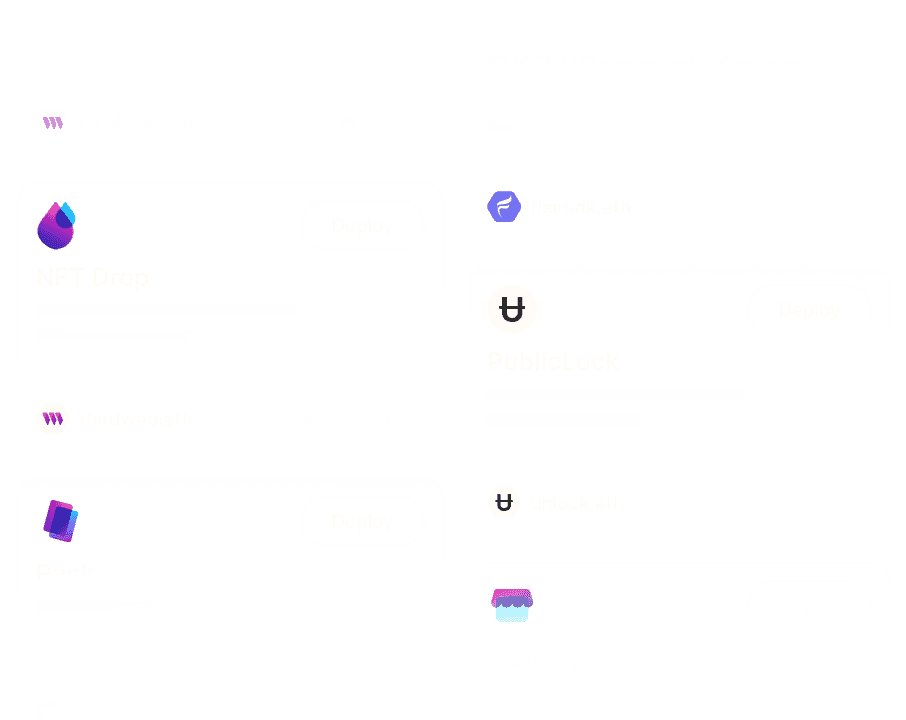 Airdrops
Efficiently transfer large numbers of on-chain assets to a large number of recipients.
Staking
Stake your NFTs or tokens to earn ERC20 tokens in return.
Beta
Contracts that are not ready yet, but you can already start deploying on selected testnets.
Didn't find what you're looking for? Build your own!
$ npx thirdweb create --contract
---